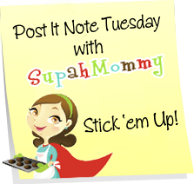 Welcome to another addition of PINT with
SupahMommy
. Click and join the fun this week!
At the request of Supah, I am posting this as well:
Twitter Party For Mission Monkey Next Week! Donate ANY amount to be able to join and win win win! (each dollar = 1 entry for prizes- donate more= more entries) Next Tuesday - 5/25 - 9-10 PM EST
Please POST THIS ON YOUR BLOG!